L
et's be real. It's incredibly annoying to read a quote from a celeb or model claiming that they eat "whatever they want" and workout by walking on the treadmill for half an hour everyday. While it great for a woman to be able to dine on Taco Bell and still be a size zero (erherm..Paris Hilton...), it's just not a realistic expectation for 99% of the population (sorry to all you optimists out there). So, its always refreshing to hear that a celeb has to work hard to look good - just like the rest of us do - by combining a rigorous dieting and exercise plan. For a perfect example, we'll break down the routine Kate Upton used to get fit for her sexy (and super revealing) Sports Illustrated cover.
A
s much as I hate to admit it, there's really no way to hate on Kate Upton. She's got a killer body, is one of those effortlessly gorgeous girls, and has a great level of tact in spite of a lot of harsh criticisms calling her "a cow", "lardy" and "piggie".
In what universe is this girl lardy?
I
f you've seen this month's Sport's Illustrated cover, it would be hard to say that Kate is anything but fit. In case you haven't...here's some examples, courtesy of Sport's Illustrated.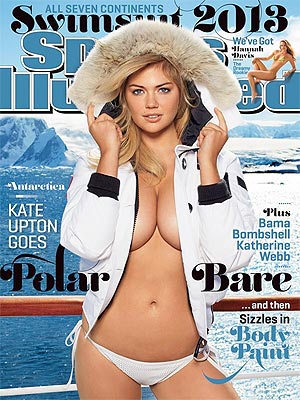 Brrrrrr.
I
n order to get in shape for her Arctic shoot last December, Kate worked with celeb fit guru, David Kirsch, who put her on a strict diet and workout regimen, starting in August for a total of four months of dedication.
T
wo-a-day workout sessions
for a total of 1.5-2 hrs, 5-6 days a week.
"

Kirsch began working with the supermodel back in August, and for the first two weeks, Upton met with him for sessions twice a day. From then on, the model exercised five to six days per week for one and half to two hours until the photo shoot in December."
C
ircuit training mixed with cardio
using a combination of running, rowing, and elliptical moves paired with strength training.
"[Kirsch]

adds that there are six regions a model needs to focus on for an

SI: Swimsuit Edition

shoot: "Legs, inner thighs, hips, butt, abs and arms. Anything that shows when you're wearing a bathing suit. Which is … everything!" (Especially when that bathing suit is as tiny as some of the ones Upton sported!)"
V
aried workouts
to keep things interesting, including kickboxing and working out outside.
"According to Kirsch, 'We started out in East Hampton and did very basic track and field work. We did wind sprints at the high school on the track, when the sun went down, we did bleacher drills up and down. And she wasn't very happy about that. That's where we started . . . When we were out at the beach or playground, we did hanging knee raises and the monkey bars. Whatever was around us, we did it.'"
A
void the "bad ABC's"
of nutrition. David Kirsch outlines them in his
wellness plan
. In other words, no..
Alcohol, Bread, Starchy Carbs, Dairy, Extra Sweets, Fruits and Most Fats
C
leanse for two weeks each month
using Kirsch's seven day
lemonade cleanse
, which calls for two protein shakes and one meal of fish or chicken with/ greens and lemon juice each day - and zero cheats total.
O
verall, its clear that the girl is dedicated to her cause - i.e. looking great while posing on an iceberg!